Our flagship product, TargetTag has become the industry standard which our competitors try to match.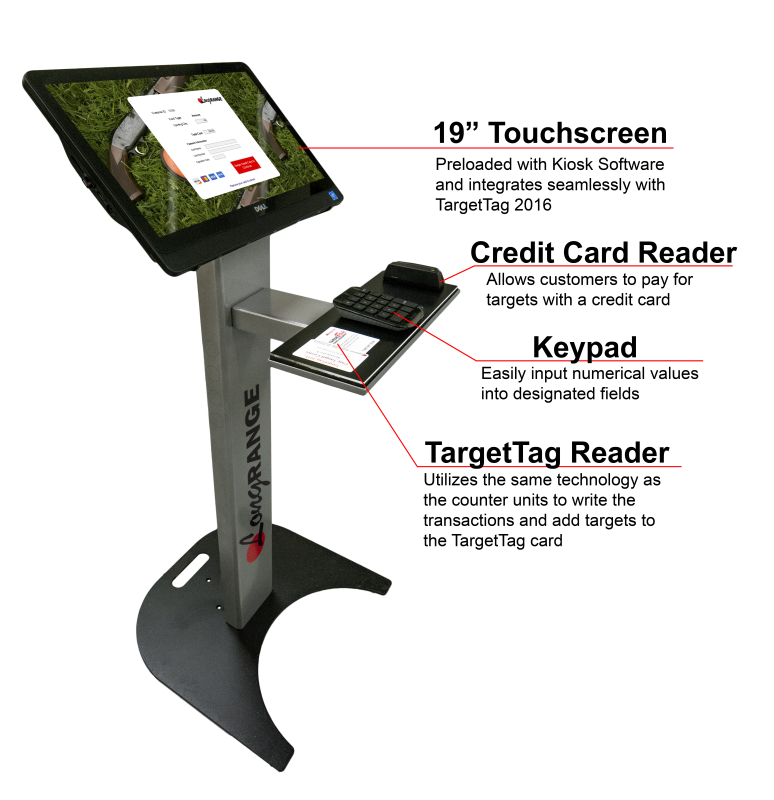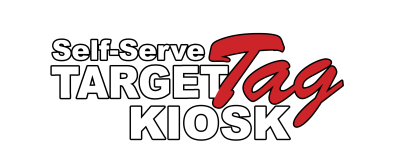 The Self-Serve TargetTag Kiosk provides customers an easy to use system to add targets to their cards using the intuitive touchscreen and credit card reader which allows them to get back to shooting quickly
Call for Pricing 1-800-987-6749
In these tough economic times it is important that you get paid for the targets you throw. Over the past 10 years we have learned that our customers using TargetTag have saved on average:

Average Savings on target costs:
​    ​
38% Sporting Clays
21% Skeet
18% Trap
​
The Hardware
Our new TargetTag system builds on experience gained from the very popular TargetKey counter system.
By using RFID tags there are no contacts or key readers to wear out. The enclosure is now completely water-proof.

Using a standard Near Field Communication (NFC) card which is the same size as a credit card, the card is simply placed in the holder on the counter unit to activate the system. We also have the ability to print your clubs logo and contact information on each card.

Cards can be either count down (prepay), where a customer can buy up to 4000 targets and keeps his card. Or count up, where targets are added to the card as your customer shoots which is then returned to the front desk to show how many targets have been used.

​

Sporting Clays

The Sporting Clays counters are available in both hard wired and the very popular wireless system, which uses the same components as the 4300 Series digital wireless. Each counter has a built in clock which keeps track of the date and time, targets shot and by whom.

Each counter unit features a Solo Shooter system, allowing individual shooters to set a delay for both trap 1 and trap 2.

A 4 trap version is also available, in wireless only.

The 4 trap version can be changed to operate 2 or 3 traps just by changing the "Pull Cord" .

Any combination of the 4 traps can be fired as a true pair.

Free play mode. Still tracks targets thrown.

Set opening and closing times for each day of the week.
​
-Total Clay Target Counting and Management System
-Hard wired or wireless options
​-Control 1, 2, 3 or 4 traps
-Management control tags included
-Free Play: Use the system without a card but still track usage
-Maintenance Mode: Disable a station while you work on a machine
-Front office software keeps track of customer information and targets shot
-Ideal for promotions and incentives
-Cards custom printed with your logo
-Set On/Off times for different days of the week

-Counts up or down
-Multiple pricing structures
-Tamper proof
-Water Proof .................. Guaranteed
All of our TargetTag systems are built to order so that we can build to your specific needs. Call us to find out how we can save you time and money and build a system to suit you.
The Software
The TargetTag software can be installed on any Windows PC running Windows XP through to Windows 10.

Using the included USB card reader cards can be issued to your customers just with two mouse clicks.

The software has many features which enable you to keep track of target usage, either by the day, month or year or any period you specify.

For larger clubs there is a network version of the TargetTag software which enables you to issue cards from two or more workstations. This is included at no extra charge on your installation flash drive.

Apart from target usage the software has a complete customer database which you can use for mailing labels or mass emailing for upcoming tournaments or general news.

If your club has memberships, the software will also track membership renewals and lifetime memberships.

All reports can be viewed, printed or exported to Excel if required.

Many of the new features in TargetTag have been suggestions from existing customers.